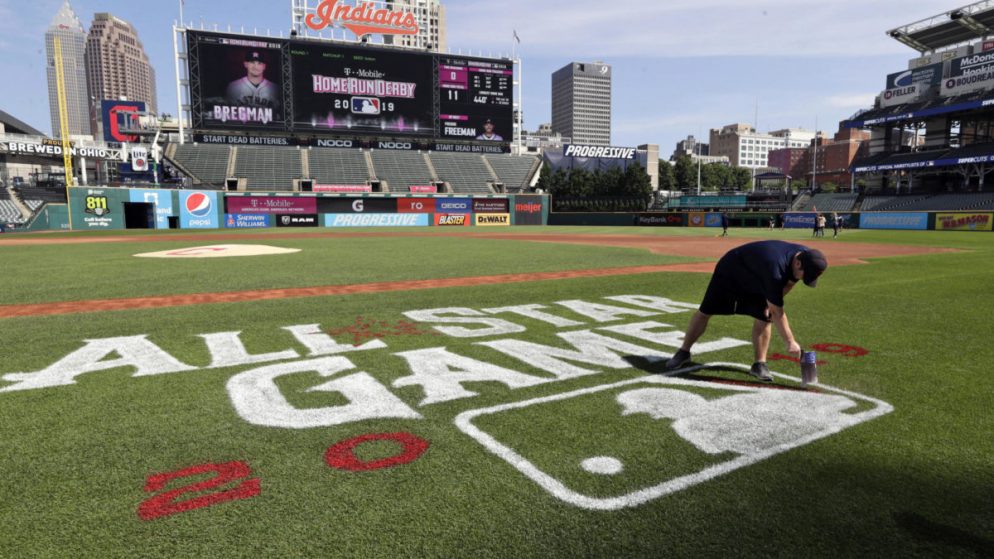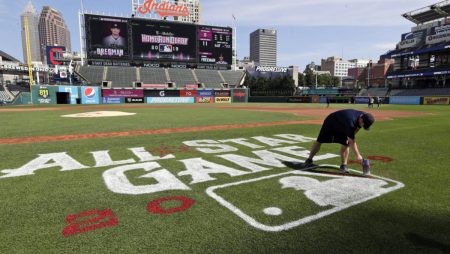 A member of the grounds crew paints All-Star Game 2019 at Progressive Field, Wednesday, July 3, 2019, in Cleveland. The 90th baseball All-Star Game will be played on Tuesday, July 9 in Cleveland. (AP Photo/Tony Dejak)
It is approaching the middle of July, which means it is time for the Midsummer Classic as the National League and American League will do battle in the All-Star Game, this year held at Progressive Field in Cleveland. The managers for this one will be Dave Roberts (Dodgers) for the National League and Alex Cora (Red Sox) for the American League. Starters for this one will feature Hyun-Jin Ryu (10-2, 1.73 ERA) for the National League against Justin Verlander (10-4, 2.98 ERA) for the American League. First pitch for this one is scheduled for 7:30 pm ET.
The moneyline for this contest is set at the National League +100 and the American League -120. The over/under for runs scored is set at 8.5.
By The Numbers
There are some interesting trends around the All-Star Game, but the two most interesting ones are:
* The American League is 24-6-1 straight up over the last 31 games (the 1 being the infamous called game that was a tie, leading to the "it counts this time" movement).
* In eight of the last 13 games, the total has been seven or less, indicating that it is definitely a pitcher's duel.
National League Looking To Buck The Trend
While the American League has certainly had success over the last few decades, this year's NL All-Star team looks especially potent, at least on paper. Their starting lineup is as follows:
1. Christian Yelich, LF, Brewers
2. Javier Baez, SS, Cubs
3. Freddie Freeman, 1B, Braves
4. Cody Bellinger, RF, Dodgers
5. Nolan Arenado, 3B, Rockies
6. Josh Bell, DH, Pirates
7. Willson Contreras, C, Cubs
8. Ketel Marte, 2B, Diamondbacks
9. Ronald Acuna Jr, CF, Braves
To say the least, that lineup is quite intimidating. Between Yelich (.329/.433/.707 and 31 home runs), Freeman (.309/.394/.584 with 23 home runs), Bellinger (.336/.432/.692 with 30 home runs) and Bell (.302/.376/.648 with 27 home runs), they have power for days from the left side. That is taking nothing away from their righties, who are lethal as well.
Pitching-wise, the All-Star Game generally sees most pitchers only going one (sometimes two) innings before passing it off to the next person. This year, though, Hyun-Jin Ryu will get the start. On the season, he is 10-2 with a 1.73 ERA, 0.91 WHIP and opponents are hitting .221 against him. In 109 innings, he has allowed 89 hits, 21 earned runs, 10 home runs and 99 strikeouts versus just 10 walks. Other notable pitchers for the National League include Jacob deGrom, Clayton Kershaw, Walker Buehler, Felipe Vazquez, Kirby Yates, Luis Castillo, and others.