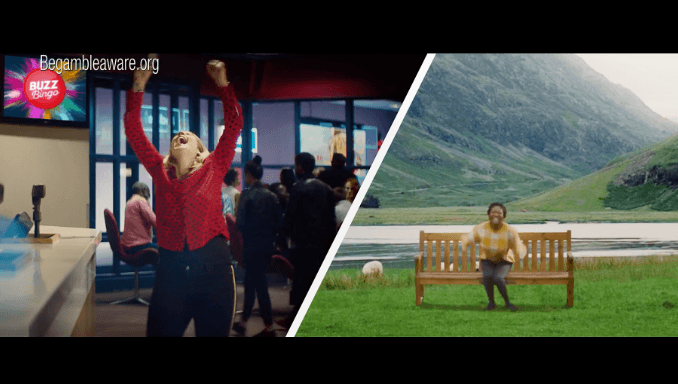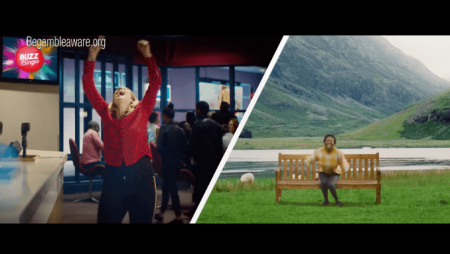 Buzz Bingo, the new name for Gala Leisure's iconic Gala Bingo clubs, has unveiled a shiny new advertising campaign focussed on attracting a younger audience to online bingo.
Three new television ads will be rolled out, featuring the 'world's friendliest grizzly bear', and shouting the message:
'It's about playing together anywhere: in the club, on the sofa, while you're in the bath – you get the idea.'
The campaign begins as Gala Leisure nears completion of a £40million rebrand, separating Gala Leisure from the Gala Coral Group, which maintains the Gala Bingo name online.
The Gala name has been replaced by hipper 'Buzz Bingo' in 103 of Gala Leisure's clubs in the UK, with plans to complete the final 19 clubs in February 2019 – and buzzbingo.com fully operational.
Buzz Buddies
With Buzz Bingo seeping into local high streets, most recently in Weston-Super-Mare , it was time to turn the lights on and begin welcoming new customers online, where people can now play in groups with their friends.
Stevie Shaves, digital director at Buzz Bingo, said: "Like our clubs, buzzbingo.com is about community. We have captured the in-club feeling of being among friends and delivered it online."
'Buzz Buddies' is the collective of your friends on the website, allowing players to see whenever and wherever their mates are online, and giving the option to joine the game.
Making Of
Buzz Bingo's campaign was created via collaboration with the London-based team of media agencies Isobel and GoodStuff, and production company Fat Lemon. The brief was to get the British public to 'fall in love with bingo again'.
Sam Drake, managing partner at Goodstuff, said: "This has been the culmination of 12 months of hard graft. With a range of audiences to target, online and off-line game-play, and the need to develop brand and performance strategies this was a tricky box to fill."
Gala themselves spent just over a year building their new online bingo website, designing it for players to 'feel part of a community' – and Amanda Howard, marketing director at Buzz, said that is what the ad campaign needed to highlight most.
She said: "We chose the name Buzz because it's part of our DNA. Our Players and colleagues feel it sums up their experience. We designed out new ad campaign to highlight and celbrate that our players span all generations and backgrounds."
In June, Playtech was appointed to run the Buzz Bingo platform across mobile, desktop and on touchpads in all land-based clubs.
Why Rebrand?
Caledonia Investments bought the Gala Bingo retail division of Gala Coral in 2015, but did not acquire the rights to associated bingo and casino websites.
The rise in online bingo popularity, and fall in bingo hall attendances, has made it untenable to continue without an online presence.
By losing the 'Gala' tag across retail, they can now integrate all club functions with an online bingo website, which will be mutually beneficial to both platforms.